Management Plan for the Wolf Population in Finland (2015, Ministry of Agriculture and Forestry) presented a plan to form local cooperation groups to wolf territory areas, consisting of different stakeholders. There are now 35 groups established across Finland.
The cooperation groups are tasked to put together an overall picture of the local wolf situation, to inform residents and to discuss prerequisites and priorities of hunting. A pivotal part of the groups' work is to plan and execute measures to prevent conflicts.
Territory cooperation aims to empower the residents of wolf territories, to improve relations in wolf issues between the game administration, the research sector and the actors of the civil society, and to reduce administrative and information-related conflicts. At the same time, cooperation groups advance the planning, decision making and monitoring of territory-based wolf management, while accounting for special regional issues.
Groups typically include representatives from municipalities, local game management associations, as well as local hunting associations, nature conservation organizations and livestock farmers. In addition, the cooperation group members may include e.g. representatives from village associations and officers from the police, border guard and Metsähallitus Parks and Wildlife.
How the groups operate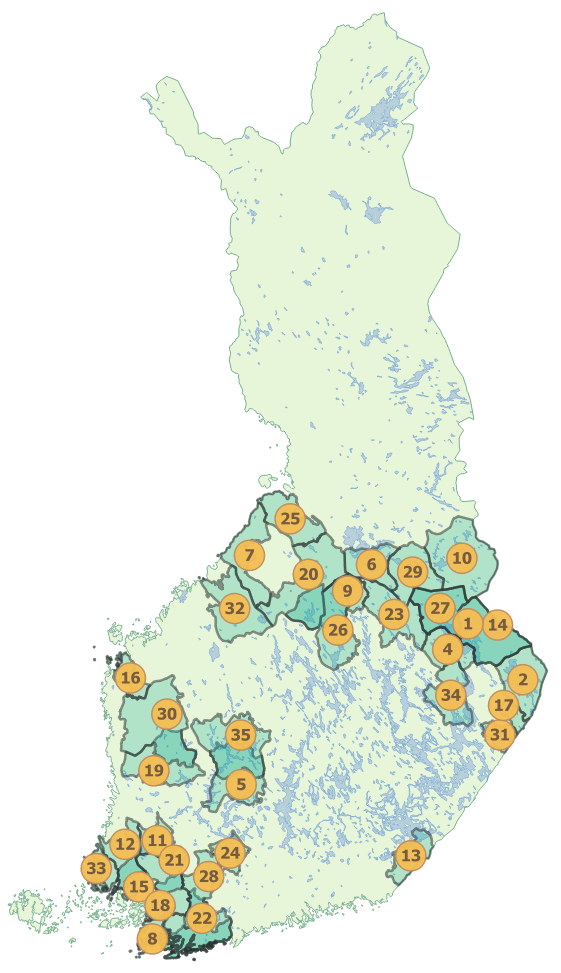 The territory cooperation groups convene on regular basis to plan local measures that support the management of the wolf. Such measures include e.g. communicating about the activity of the group, the local wolf situation and the large carnivore contact person network (largecarnivores.fi), which verifies and reports citizens' sightings of large carnivores to the Tassu observation system, maintained by Natural Resources Institute Finland. You can read up on the groups' activities by going through their meeting memos from year 2017 onwards here (in Finnish or Swedish, dropbox.com).
Residents of the territory areas can contact the members of the cooperation group when they have questions or proposals regarding wolf management. Contact information for each group can be found here (pdf).
A guide for territory cooperation groups (pdf) has been compiled to support the groups. It explains how the groups are formed and what is their purpose, and gives suggestions on meeting practices, measures and useful materials. It is available also in Finnish (pdf) and Swedish (pdf).
Cooperation groups are assisted and coordinated by senior planning officer Mari Lyly from the Finnish Wildlife Agency.