If you lose your hunting card or it is not delivered with the fourth issue of the Metsästäjä magazine, please contact the register of hunters: tel. 029 431 2002, metsastajarekisteri@riista.fi.
Hunting card for new hunters
New hunters, who have passed the hunting examination, receive a hunting card for the current hunting year by mail in approximately two weeks after the examination. The hunting card is valid immediately after the game management fee has been paid.
Hunting card: information on purchasing and validity
Hunting card for the following hunting year is delivered annually on the additional cover of the fourth issue of the Metsästäjä magazine to those hunters, who have paid the game management fee at least once during the last five years, provided that the person's complete personal identity number is in the register of hunters.
However, the hunting card will not be mailed to hunters, whose hunting examination expires at the end of the current hunting year (July 31). The examination expires if a hunter does not buy a hunting card by paying the game management fee in five years. These hunters will receive a letter by mail at the turn of the previous calendar year to remind them that their examination is about to expire.
Hunting card becomes valid after the game management fee has been paid. Hunting card has a personal, annually changing reference number that helps to register the payment correctly. You must use the reference number every time you pay the game management fee. In the hunting year 2023–2024, the game management fee is 43 euros.
You can pay your hunting card in a bank for a service fee and get a stamp on your card as proof of payment. You can also pay the card by using a payment ATM, computer or telephone bank. You must attach the payment receipt or a copy of your bank statement to your hunting card as proof of payment. Pre-registration receipt is not accepted as proof of payment. You must carry a valid receipt and your hunting card with you when you go hunting.
Hunting card only includes the hunter's date of birth, not the last part of his or her personal identity number. However, a full personal identity number is mandatory in the register of hunters.
Electronic invoicing
It is possible to change the paper invoice for a game management fee to an electronic invoice that is delivered directly to your online banking account. Persons, who pay the game management fee by e-invoice, get a small, credit-card-sized hunting card with a notification of a paid game management fee. It is delivered home on the additional cover of the fourth issue of The Metsästäjä magazine. The card is covered with plastic, so it will stay in good condition longer and resist water better than a paper card.
You can make an agreement on e-invoice in your online banking service. Moving to e-invoicing saves time and effort. The payer does not have to key in the invoice information, but only needs to accept the invoice with one click in his or her online banking service. All information, such as account and reference numbers, is pre-filled in the payment form, so there is no need to key them in separately. Agreement on e-invoice does not need to be renewed annually.
In the next few years, the SEPA reform will cause changes in the direct debit system in Finland. It is possible to prepare for the future changes already now by moving from direct debit to electronic invoicing.
Changing the game management fee invoice to an e-invoice is simple. You only need to take the following steps:
Log in to you online banking service.
Make an agreement (new e-invoice) and select the Finnish Wildlife Agency as the invoice sender and game management fee as the reason for invoicing.
Use your personal identity number as identification data.
Please notice that in some banks the e-invoice requires both a personal identity and a reference number. You may use the reference number of your last season's hunting card or the reference number 1232. If you still have any questions about using electronic invoicing, please contact your own bank.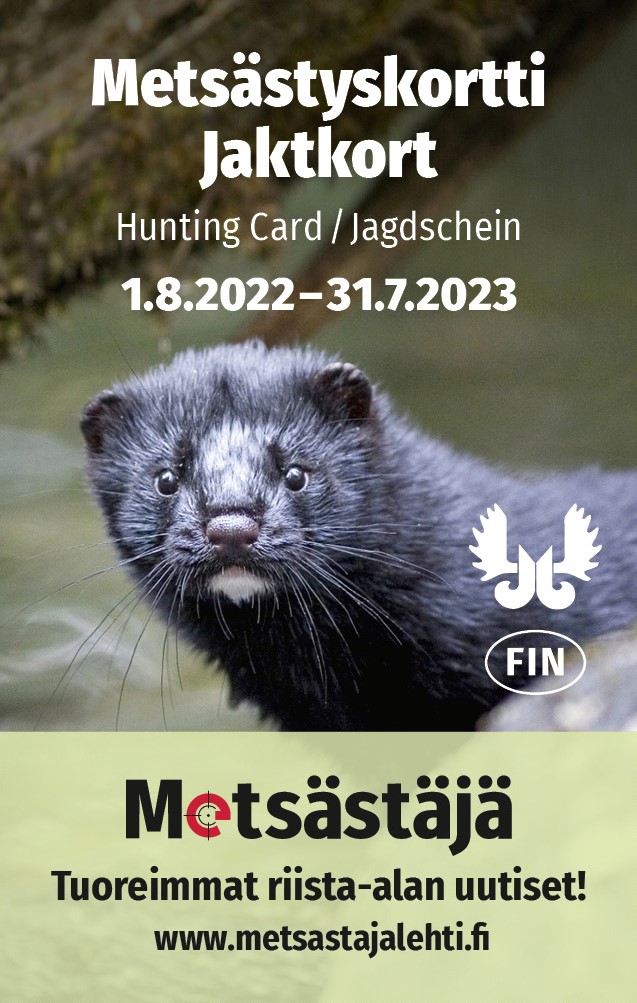 You can find more information on how to start using the e-invoice at your own bank's website.
If you lose your hunting card
If you lose a paid hunting card, you can order a transcript of your card from the register of hunters. It is also possible to get a new hunting card from the register of hunters, if you lose a card that is yet to be paid. A delivery fee is charged in both cases.
Text translations of the Finnish hunting card
When you are traveling abroad to hunt, the local authorities may want to know what the texts on the Finnish hunting card mean. They might, for instance, want confirmation of valid insurance cover. English and German translations of the traditional hunting card and direct debit hunting card in season 2019-2020 are attached below. It is recommended to print out the translations and take them with you on your journey.
Shooting test certificate includes information in English and German on which animals the cardholder has the right to hunt in Finland.
If you need a more specific certificate of your hunting card, please contact the customer service of the Finnish Wildlife Agency.
Hunting cards for foreign hunters
Foreign hunters' hunting cards are ordered through game management associations. Hunting cards are granted to foreign persons for one hunting year at a time, and the card is mailed to the address provided on ordering. The Metsästäjä magazine is not delivered to foreign hunters.
A foreign hunter must present the executive manager of a game management association a copy of his or her hunting card or other reliable documentation that proves that the hunter has the right to hunt in his or her own country. If a foreign hunter cannot present acceptable documentation on his or her right to hunt, he or she must pass a hunting examination in order to be able to hunt in Finland.
Finnish citizens living abroad cannot get a foreign hunter's hunting card, but they are required to pass a Finnish hunting examination.