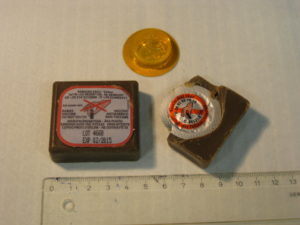 Finnish Food Safety Authority Evira starts the aerial distribution of rabies vaccine baits on the south-eastern border on the 15th of September. A total of 180 000 vaccine baits for small predators will be dropped during a period of about 5 weeks from the starting day.
The purpose of the annual vaccine bait drop campaign is to prevent forest rabies found in wild animals from spreading to Finland.
The baits are distributed on the south-eastern border in a ca. 40-km wide zone extending from Ilomantsi to Virolahti, and further in a 20-km wide zone along the southern coast from the eastern border all the way to Pyhtää. The total aerial distribution area is ca.10 000 square-kilometres. Flights will be conducted on a daily basis between 7 and 21 o'clock for about five weeks.
Aerial distributions will be begun from the northern part in the area.
Leave baits be in the wild
Baits should be left be in the wild so that the small predators will not refrain from eating them due to human smell
The baits are dropped from the airplane at intervals of 60 – 70 metres. The distance between the flight lines is one kilometre. Baits are not dropped in courtyards, population centres or water bodies.
"Baits that fall near habitation can be moved, using protective gloves, to the edge of a forest or some other safe location. If a large number of baits is found within a very small area or in the vicinity of residential buildings, Evira should be informed about it", recommends Senior Researcher Tiina Nokireki from Evira.
The vaccine baits are brown pieces approximately 5 x 4.5 x 1.5 cm in size and 30 g in weight, with a strong smell of fish extract. The vaccine comprises attenuated rabies viruses and is contained in the bait in liquid form inside a foil capsule.
React quickly if the damage is done
If the vaccine comes into contact with the mucous membranes of your mouth, nose or eyes, rinse the affected area with plenty of water for 15 minutes. If you get the vaccine on an open wound or broken skin, was the wound with plenty of water and soap for 15 minutes and then clean with 70 proof alcohol. You should also contact a health care centre
Dogs should be kept away from the vaccine baits, because some dogs have manifested vomiting and nausea after eating vaccine capsules.
Any adverse effects should be reported to the Finnish Medicines Agency Fimea by submitting an adverse reaction notification
It is safe to pick berries and mushrooms in the area.
Send small predators for follow-up examinations
It is important that all foxes, raccoon dogs and other small predators that are killed by hunters or found dead in or near the bait vaccination area are sent to Evira for follow-up examination. Evira examines the animal samples to monitor the coverage of vaccine protection and also any occurrences of rabies.
The samples are to be sent to Evira's Production Animal and Wildlife Research Unit in Oulu. These examinations are free of charge and the samples can be sent using Matkahuolto parcel services, also free of charge.
For original announcement and additional information visit Eviras website
Photo: Evira / Tiina Peltonen